HOMEPAGE

THIS IS NOW THE PSO ARCHIVE WEBSITE
CLICK HERE FOR THE CURRENT PSO WEBSITE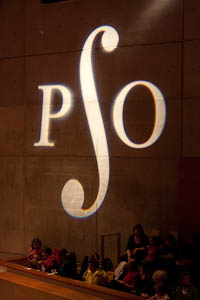 PSO performing in Perth Concert Hall, November 2013

Welcome to the website of Perth Symphony Orchestra, Scotland. We hope you will enjoy your visit and find the information you want. (For Perth Symphony Orchestra, Australia click here)
Perth Symphony Orchestra (PSO) is an amateur orchestra based in Perth, Scotland. It was founded in 1951, gave its first annual concert on 26th April 1953 and since then has given two regular concerts per year. Today we have around 50 members, a happy mix of amateur and professional musicians, and play a wide variety of orchestral music to suit all tastes. We enjoy making music and members learn much from the able guidance of our Conductor, Allan Young, Leader, Lorna McGovern and other instrumental tutors.
We are always happy to welcome new members at the beginning of the season. As a guide we find players have to be approx. Grade 6 or above to be able to benefit from the orchestra. No audition is necessary but we do ask for commitment to regular attendence at rehearsals and concerts. We rehearse on Wednesday evenings (September-March) 7.25-9.30 p.m. during term time and our concerts are usually held in late November and the last Saturday in February, in Perth Concert Hall at 7.30 p.m. There is an annual subscription of £60, £40 for senior citizens and students only pay £10.
If you do not play an instrument but enjoy listening to orchestral music why not come along to our concerts? The ticket price is a modest £12 (concessions £10) and school pupils are admitted free. For a subscription of £35 per annum you can become an Friend of PSO and receive two tickets for each concert along with free interval refreshment. Simply email the orchestra for details.
This site started in October 2001. You are visitor number


Site last updated SEPTEMBER 2015
modified 4/12/15 on Eclipse.net