BACKGROUND
HISTORY
Perth Orchestral Society was founded in 1951 and its playing members, Perth Symphony Orchestra, gave their first annual concert on 26th April 1953. For fifty years the orchestra has performed two regular concerts each year, and is often invited to give other concerts, for example for charity. Today it has around 50 playing members with a professional conductor and leader. It is a registered charity and is affiliated to Making Music. For more details see our history page
AIM
The Society's aim is to provide enjoyment and give people the chance to play in an orchestra. To playing members, amateur and professional alike, it offers the opportunity of being part of a full symphony orchestra, and the satisfaction of giving regular public concerts in a full-sized hall. To listening members, it offers the pleasure of varied concert programmes - classical, romantic, modern, popular, and sometimes adventurous - at a modest cost, in the most central venue in Perth. The orchestra also likes to give young professional musicians, formerly at Perth and Kinross schools, the chance to play as augmenters. Exceptionally talented young Perth professionals are invited to perform as soloists.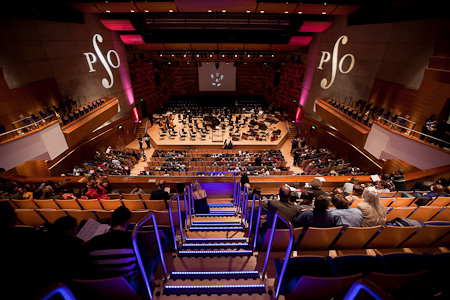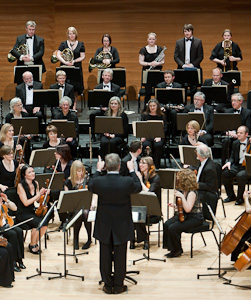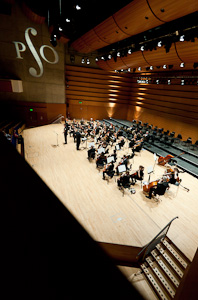 PLAYING MEMBERS
Perth Symphony Orchestra rehearses on Wednesday evenings during term time from September to March and gives two regular public concerts each season usually in Perth Concert Hall . While it has some highly skilled members, it also warmly welcomes keen but less experienced players of any age. The orchestra prides itself on its happy atmosphere. Auditions are not required, but regular attendence at rehearsals and personal practice is expected so that the rehearsals are meaningful and progress is made. As a guide we find players need to be of approximately grade 6 standard or above to be able to benefit from the orchestra. 'Extra' wind players are accommodated, doubling in rehearsals then sharing our the parts by mutual agreement and at the conductor's discretion for the concerts. We have fun but we also work hard! Players pay a subscription of £60 per annum, £40 for senior citizens, students/school pupils £10. The following profiles will give you a 'feel' for the orchestra.
Jonathan Pinnick, bassoon


How long have you been playing with the orchestra?: 3½ years


How did you first become involved with PSO?: I moved to Perth for work in 2010 and was keen to find a local orchestra to play in. Music has always been a big part of my life so when I found PSO's website I got in touch and was invited along to a rehearsal. I've been a member ever since and for the last couple of years have been on the management committee as Publicity Officer.


What's the best thing about being a member of PSO?: Everyone in the orchestra is very friendly and we have a lot of fun together. Allan (Young) creates a light-hearted atmosphere in rehearsals (most of the time!) but at the same time pushes us to achieve our full musical potential. We play a wide range of music to suit all tastes. Trips to the pub after rehearsals are also a highlight of my week!


What's your most memorable moment with PSO?: Performing Rimsky-Korsakov's "Sheherezade" in the last concert (November 2013). There were some fabulous solo bassoon passages which were great fun to play and stretched my abilities to the limit. There was some superb solo playing throughout the wind section and Lorna (leader & solo violin) was the star of the show. I'd previously played "Sheherezade" with my youth orchestra over a decade ago so it also brought back happy memories for me.

Carolyn Bell, oboe

Once the kids were settled at school I took up the oboe as an engrossing hobby. I enjoyed practising but wished there could be a purpose to my playing. So when I moved to Perth in 1995 I was delighted to find that there was an orchestra that I could join and even more delighted when I found everyone friendly, kind and encouraging and the choice of music manageable. In time I was invited to join the committee and have served in the roles of secretary and chairperson and am gradually building an archive of the orchestra's history both on the website and in paper form.

I find it life enhancing to be part of a large and diverse group of people all working together to create an entertainment which is 'more than the sum of the individual parts'. Every rehearsal and performance is different and on a good day the music really takes on a life of its own. As well as the orchestral repertoire members meet in smaller groups and explore chamber music too.

My most memorable moment with PSO? ... I have many, many happy memories of my time in the orchestra. Socially the 50th Anniversary Dinner was a special event with all the orchestra's former leaders and most of the conductors present. Musically I really enjoyed playing the second symphony of Sibelius, being part of his fascinating landscape of sound, the Italian Girl in Algiers by Rossini and playing my part in the story of Scheherazade. There are wonderful moments of humour too: rehearsal comments such as Allan's cheerful "rests shouldn't be called rests, they should be called counting opportunities" ...


Julia Banks, flute

I have been playing with PSO since I moved to Perth in 1976. I could hardly believe my luck at finding myself in a town with a symphony orchestra with flute vacancy. I was immediately made to feel very welcome.

Over the years I have made many friends through a shared love of music, and I feel very fortunate to have worked through such a wide orchestral repertoire: symphonies, overtures, and concertos with soloists who have gone on to successful international careers. It is thrilling to hear some work or soloist on the radio and to think: "We played that" or "…with him or her".

Quite early on I was invited to join the committee and served for several years as an ordinary member and, in the last few years, as Friends' Secretary.
It is hard to pick out particular highlights, as all the concerts have been memorable and exciting, and it is always thrilling to feel oneself a part of a huge body of sound. I have particularly enjoyed playing in all the Brahms symphonies and felt particularly challenged by Scheherazade and Rachmaninov 2nd Symphony. The big event concerts have been great fun: the Choral Symphony with Perth Choral Society; the 50th anniversary concert; Perth 800 playing the music for the Royal Fireworks by the Tay, in the snow; last February's concert with PYO…

Rehearsals are good fun too. Allan has a wonderful sense of humour, endless patience, a way of getting us to listen carefully to other sections of the orchestra and the gift of building up confidence, so that the scary moments of exposed entries, tricky rhythms and seemingly impossible rapid passages become manageable.


Gillian Roxburgh, violin

I have been playing the violin since the age of 7 and began orchestral playing a couple of years later. Orchestral playing has always been the leisure activity I enjoyed the most, but unfortunately I lost all my musical contacts when my family relocated to Muthill in 1993. I first became aware of PSO some years later, but childcare and transport problems, and later work commitments, meant I was unable to join until recently.

I finally took the plunge in September 2013, joining the 1st violin section as rehearsals were beginning for what I was assured was the most difficult programme so far! Everyone was very friendly and welcoming, which gave me the confidence to just join in and enjoy it. The atmosphere at rehearsals is always very relaxed- you get the sense that everyone is there because they enjoy playing - even if Allan does have to bully us into smiling!

The high point of my time with PSO so far would have to be the end of the first rehearsal- I really could still play well enough to keep up! Having practised hard to make up lost ground, I now feel as if I have reached a slightly higher standard than before I stopped playing, and am looking forward to playing with the orchestra for many years to come.


Jane Murphy, violin

I completed Standard and Higher Grade Music as a mature student at Kinross High School between 1992 and 1996. I was a playing member of the school orchestra and string ensemble.

I joined PSO in 1997 and have always found every rehearsal to be relaxed and friendly. My playing has improved immensely with the expert guidance of Allan and Lorna and enjoy meeting for rehearsals and coffee break with fellow members.

My most memorable pieces I have played are: Barber's Adagio for strings, Brahms Symphonies - they are always challenging and Allan has a way of bringing out the best in our playing and guiding us to our full potential. I also enjoyed the concert with PYO 2013 and of course Scheherazade. There have been many more memorable concerts and am looking forward to many more with PSO.

I began playing violin as a mature student because Idid not have the chance to take up the instrument when Iwas younger. Yes! it is difficult to learn but the rewards and satisfaction you gain with achievement out way the difficulty. If you have always wanted to take up violin my advice to you is GO FOR IT! Believe me you will not look back.
FRIENDS OF PERTH SYMPHONY ORCHESTRA
If you do not play an instrument but wish to be involved with an orchestra you may wish to become a Friend of Perth Symphony Orchestra. For £35 a year Friends receive 2 tickets for each concert along with an interval refreshemnt for two.They are also welcome to visit rehearsals at any time and meet the orchestra members. Please email the orchestra for details.
WOULD YOU LIKE TO HELP?
There is much background work involved in the successful running of an orchestra, ranging from making the interval tea at rehearsals to administration and marketing. If you are an individual with time on your hands and feel you could contribute in some way the orchestra would be delighted to hear from you.