PERTH SYMPHONY ORCHESTRA. A SHORT HISTORY (1953- 2003)
Once upon a time there was no Symphony Orchestra in Perth. Then some people decided that there should be and started one. They played happily for 50 years and still do. This, in essence, is the history of Perth Symphony Orchestra, today a happy group of around 50 amateur and professional musicians who meet once a week in all but the summer months to rehearse orchestral music for regular concerts each autumn and spring. But of course reality is a little more complicated than fairy tales and Perth Symphony Orchestra did not appear overnight.
The story really begins back in 1948 when an orchestra continuation (evening) class was run under the education authorities by Jack McConnell, a violin teacher from Strathallan school. This class met every Tuesday evening in the Old Balhousie Boy's School in Dunkeld Road. There was no lack of enthusiasm for the music of the continuation class but it floundered due to the 'high fees' imposed and eventually Louis J Barnett, who was at the time a music teacher employed by Perth and Kinross Education Committee, called a public meeting in the Chapter House of St Ninian's Cathedral on Wednesday 7th November 1951 at which it was unanimously decided to form a organisation "The Perth Orchestral Society" with the establishment of an orchestra as its principal aim. Forty-two people had already given their names and announced their willingness to play. After discussion, Mr A Ernest Monk was appointed as conductor, Miss Margaret McDonald as leader, and the society's committee was: Mr Arthur Poyser, Chairman, Mr R Barnett, Secretary and Treasurer, Mr Eddie Connor, Mr A Cruickshank, Miss Margaret McDonald, Mr A Ernest Monk, Miss Rita Scott and Miss Elspbeth Stirling. The Prolvost of St Ninian's Cathedral granted the Society the use of the Chapter House as a rehearsal room for a nominal rent to defray lighting and heating costs. The annual subscription of the Society was set at £1 to cover the costs of the players' scores and the first rehearsal was set to be on Wednesday 14th November 1951 at 7.30 p.m. As reported by the local press at the time "the first steps towards placing Perth on the Musical map had been taken."
After 18 months of doubts, financial worry and hard pioneering work giving small scale concerts out of town to introduce the public to orchestral music, Perth Symphony Orchestra gave its first ever annual orchestral concert under the baton of Mr A. Ernest Monk with leader Miss Margaret McDonald. For this portentous occasion the orchestra was augmented by fifteen players from Dundee and six instrumentalists from Perth Silver Band making a total of fifty-one players. The ticket prices were: Dress Circle 4 shillings [20p], Front Stalls 3 shillings, Pit Stalls and Upper Circle 2 shillings and the Gallery 1 shilling. Programmes were sixpence. Pupils from Perth Academy acted as stewards. As was customary then the evening began with God Save the Queen. The following review written by Bruce McKercher appeared in the Perthshire Advertiser of 29th April 1953:
PERTH SYMPHONY ORCHESTRA
The Perth Symphony Orchestra (conductor Mr A Ernest Monk; leader, Miss Margaret McDonald) made a conspicuous success of their first annual concert in the Theatre on Sunday evening. The programme consisting of works by Beethoven, Haydn, Boyce and Tchaikowski, showed not only great promise but very substantial achievement. There was evidence of thoughtful preparation, and if there were some less happy moments these could be overlooked in view of the generally excellent standard reached.
Beethoven's "Egmont" overture had a somewhat nervous opening, but the players soon got into their stride and the interpretation was on sound classical lines. Two symphonies, a charming little one by William Boyce and Haydn's well-known "Military," made up the bulk of the programme, which was nicely rounded off by two numbers form the popular "Swan Lake" ballet of Tchaikovski. The Haydn was a happy choice and there was very good work in it. If one were to go into details, it might be suggested that in the second movement there was a little too much shading off of phrase endings, and that the Minuetto was taken rather on the fast side; a stricter observance of the direction "allegro non troppo" would have given more security.
It was a great misfortune that Miss June Lawrence was unable to appear, owning to having sustained a fractured ankle early in the week. All would join in the message of sympathy and good wishes sent her by the honorary president of the society, Col A Gomme-Duncan. At very short notice, Mr Alastair Moncreiff took over her role as soloist in Beethoven's piano concerto in C minor, Op 37. In the circumstances one would have been prepared to accord to Mr Moncrieff the goodwill which sends one's critical facilities to sleep, but the performance proved admirable in every respect. Mr Moncrieff is a pianist of whom more will undoubtedly be heard. He played with not only complete technical assurance but with an insight into the music of Beethoven quite exceptional in a young man who has only just completed his training. A famous Glasgow teacher used to say to pupils who had studied with him certain Beethoven sonatas " Now you can play the notes and when you get to about fifty you may begin to understand the meaning lf the music." Judging by his performance on Sunday Mr Moncrieff seems to have reached maturity at half that age.
It will be the wish of everybody that a local orchestra such as this should go on from strength to strength, and Mr Monk and the players under his instruction have proved themselves worthy of the support which is solicited on a page of the programme. For once we have the pleasure of recording that an orchestral concert in Perth was well attended."
Ernest Monk conducted another successful concert with PSO in 1954 and then moved from the area.
The second conductor of Perth Symphony Orchestra was Hungarian born Dr Bela de Csillery, a highly disciplined individual of immense character and ability, whose boundless energy and enthusiasm inspired those around him to achieve things they did not think possible. He devised exercises to enable amateur players to cope with difficult passages. He appealed for instrumental tuition to be available in schools. He publicised the orchestra and put in on a sound financial footing. He had the Perth City Hall platform extension built so that orchestras could be seated there. He brought a series of brilliant young artists to Perth to perform as soloists before they became famous. Such was his effect on the area that in 1960 the Perthshire Advertiser reviewer Bruce McKercher was inspired to write:
"There was once upon a time in the city of Perth an amateur orchestra which was no better (and probably no worse) than any other amateur orchestra in any other provincial town. Then at a certain point in its history, Dr Bela de Csillery ascended the rostrum and things began to hum."

At the end of 1961 Bela de Csillery was appointed Kent County Music Advisor and moved away from Perth. However true to form he kept his promise of preparing and conducting PSO for one last May concert travelling 1000 miles per week by night train to do so! Csillery's leaving concert on Sunday 13th May 1962 was attended by 758 people. 68 people played in the orchestra including such well known musicians as Marie Dare, Stanley Rimmer, Pamela Dow and Noel de Jongh who was to become PSO conductor in 1973. At the time Perth Orchestral Society had 191 associate members, and was supported by the Cross Trust, the Duncan Charitable Trust, the Gannochy Trust and 22 local firms - a local institution indeed !
Csillery's successor was Iain Campbell, a talented and enthusiastic 23 year old from Glasgow who had already gained much conducting experience through his work with three Glasgow groups: the Cecilian Society, the Unitarian Youth Orchestra and Drawing Room Music Society. In addition he was an accomplished pianist and viola player. Like Csillery he conducted both PSO and Perth Choral Society, travelling from Glasgow twice a week to do so. He had a successful three seasons with the orchestra producing ten concerts, all of which received good reports in the press.
In the early 1960s the orchestra was composed mainly of strings with the odd wind player, local professionals and outsiders being brought in at the last minute to fill the gaps for the concerts. Iain Campbell therefore always tried to include a string piece in the programme to give the local regulars their share of the limelight: these included Holst's St Paul's Suite, Britten's Simple Symphony, Elgar's Serenade in E minor, Grieg's Holberg Suite, and Dag Wiren's Serenade for Strings. He also included some modern works, notably Malcolm Arnold's Symphony No 2. which met with mixed opinions! Many felt that Perth was not ready for such music but others were enthusiastic.
Iain Campbell now lives in Orkney and looks back on his days with PSO with much pleasure, the company of so many enthusiastic players richly rewarding the taxing twice-a-week commute from Glasgow. Once this went amusingly wrong. He remembers:
"I would stagger across to the station, fall into the 'milk train' and arrive in Glasgow about midnight. On one occasion I followed this same routine, but was surprised to find the train running early but taking some time to arrive in Glasgow. Eventually I did arrive - in Carlisle! The Inverness/King's Cross train was running late and had occupied the identical platform where my milk train should have been. Needless to say I arrive home very late that night and was worth very little at school the next day!"
When Iain Campbell moved south to a new post John McLeod became PSO's conductor for the next eight seasons. The McLeod years proved to be most exciting and innovative ones for both Perth Symphony Orchestra and Choral Society. A skilled teacher, clarinettist and composer, John McLeod bought contemporary and unusual music to Perth as well as performing many pieces from the established concert repertoire. In his eight seasons with PSO he conducted over thirty concerts in the Perth City Hall and was responsible for many interesting premieres as well as introducing his own and other contemporary composers' works. In his own words:
"Of course I have vivid memories of my time with the PSO and I was surprised and delighted that the committee allowed me to programme so many unusual and ambitious works that I wanted to do ranging from the British Premiere of Shostakovich's Overture on Russian and Kirghiz themes, the Scottish premieres of Mahler's Waldmarchen, Prokofiew's 'Alexander Nevsky', and Shostakovich's 'Katerina Ismailova' Interludes and 'The execution of Stephan Razin' (with Perth Choral Society). These were in addition to a full repertoire of classical and romantic works which included Beethoven's 9th Symphony - no mean achievement for and amateur orchestra."
As well as composing works for Perth Symphony Orchestra and bringing so many premieres to Perth, John McLeod was instrumental in starting Perth's Festival of the Arts. Indeed the first Perth Festival of the Arts opened with a Gala Concert given by Perth Choral and Orchestral Societies conducted by John McLeod. Happily for Perth both the concert and the festival were a success.
John McLeod moved on from PSO and was succeeded by Noel de Jongh who had a long association with music in Perthshire. Between 1954 and 1962 he was assistant music master at Trinity College Glenalmond and played timpani, and later trombone and tuba for Perth Symphony Orchestra under Bela de Csillery. He was also accompanist to Perth Choral Society. From 1962-1966 whilst he was Director of music at Bloxham School, Banbury, he conducted the Banbury Symphony Orchestra and Operatic society and studied conducting with George Hurst, Norman del Mar and Sir Adrian Boult. He later returned to Perth to become director of music at Glenalmond and was appointed conductor of both Perth Symphony Orchestra and Perth Choral Society in 1973.
In a recent letter to Perth Symphony Orchestra Noel de Jongh paid tribute to the many people he worked with during his time as conductor:
"I had the great good fortune to be conductor from 1973 - 1980, and while memory of much of the detail has faded after 23 years , my abiding memory of the orchestra is of the loyalty, dedication, hard work, patience, good humour and friendliness of the players throughout.
During Noel's time as conductor, Perth Symphony Orchestra worked with many eminent soloists and he has some amusing anecdotes to relate. Of the famous oboist Leon Goosens Noel recalls:

"We were delighted to welcome the famous international oboist Leon Goossens to play the Mozart Oboe Concerto. At the rehearsal. he asked us to "warm up" with the overture first, and waited in the artist's room, no doubt with one ear cocked. So all duly warmed up, I went down to collect him. Instead of leaping to his feet, oboe at the ready, he simply handed me his own personal tuning fork, with the instruction "Take that to your first oboe, will you?" So the orchestra re-tuned and rehearsal and concert went smoothly. Leon wrote on a signed programme for me "With many thanks for the excellent co-op."
He also had the awesome responsibility for accompanying Bela Csillery's second wife, the well known violinist Gillian Sansom!
"Amongst other soloists Iona Brown played the Mendelssohn Violin Concerto and Bela Csillery's wife Gillian Sansom, played the Bruch Violin Concerto. I confess I breathed a sigh of relief when I heard that Bela would be unable to attend, knowing that if we were not up to playing well for Gillian, there would be words. However, in the event, Bela did turn up, large as life, and pronounced that "After all, the orchestra is even better now." Phew!"
When Noel de Jongh took ill shortly before the November 1979 concert, Euan Fairbarin stood in for him with great success and on Noel's retirement was asked to become PSO's conductor. As a schoolboy in the fifties Euan was a regular attender at PSO concerts and was instrumental in persuading Bela de Csillery to give a talk "On Conducting" at his school, Morrison's Academy in Crieff. He later joined the orchestra as a percussionist in 1967 when he came to Perth Academy to teach mathematics. In the mid seventies he left teaching to study music at Napier college and gained diplomas in percussion and conducting and an award as top music student.
Looking back over his years as conductor Euan Fairbairn felt his main achievement was introducing the orchestra to the works of composers whose music they had not played before. The list is quite long: Auber, Sir Arthur Bliss, Cherubini, Delibes, Percy Granger, Herold, John Ireland, Lehar, George Lloyd, Luigini, Massenet, Meyerbeer, Moussorgsky, Rodrigo. The most rewarding of these was probably Perth Symphony Orchestra's performance in March 1983 of the sixth symphony of the Cornish composer George Lloyd which was written in 1956. This was the fourth ever performance of the work and the first Scottish performance of any of his symphonies. It was well received by both the local and national press.
Perth Symphony Orchestra's seventh conductor was Chris Griffiths, a French horn player who studied at the Royal Academy of Music in London with Barry Tuckwell. He was principal horn with the Scottish Chamber Orchestra before returning to free-lancing and moving to Perth. With his considerable experience of working with youth orchestras he encouraged young local players to join the orchestra and number of regular orchestra members increased under his baton. In the November 1988 concert he combined his role as conductor with that of horn soloist along with Heather Nicoll (clarinet), Laura Young (oboe) and Chris Robson (bassoon) in a memorably good performance of Mozart's charming Sinfonia Concertante in E. Not surprisingly under Chris Griffith's baton Perth Symphony Orchestra often played works with prominent brass parts. The most unusual of these was the Concertino No.4 Opus 4 in Eb for trombone and orchestra by Ferdinand David (1810 - 1873). The orchestra performed this rare work in February 1989 with the soloist Alan Pash, the principal trombone player of the Scottish Opera Orchestra. Respected for his teaching of technical expertise and originality of programming Chris conducted a final successful concert in November 1990 before moving to Newcastle to work with the Northern Sinfonia.
In 1991 Chris Griffiths was succeeded by another Chris, Chris Tambling organist, composer, choirmaster and Director of Music at Trinity College, Glenalmond. An energetic and enthusiastic musician, Chris Tambling also combined his role as conductor with that of performer on a number of occasions and enjoyed collaborating with other groups such as Perthshire Brass, Perth Choral Society and Glenalmond choirs. His own words convey excellently some of the fun and backgroud work of putting on concerts:
"I miss PSO desperately - I really did enjoy being involved with the concert planning, the rehearsals, and all of those wonderful concerts in the City Hall. It was such a treat working with such enthusiastic players and with such a supportive committee - all of the stands put out, the posters, the refreshments…So many things stand out as memorable. I have very fond memories of my first appearance on the City Hall stage - the Strauss Oboe Concerto with Laura Young's ravishing playing and Frances McCafferty's fabulous 'Sea Pictures'. It was good too to work with other talented soloists - I especially enjoyed joining with Allan Young and Nick Smith in Bach's Brandenburg Concerto No.5: that was the concert that nearly didn't happen, because the minibus I was using to transport the harpsichord skidded in snow on the road from Glenalmond!"
When Chris Tambling moved south to a new post (the 'fate' of so many PSO conductors!) PSO's president Henry Neil stood in to conduct a most successful combined concert with Perth Amateur Operatic Society and Perth Cathedral Operatic group before the orchestra's leader Allan Young took up the baton in 1998.
As the co-ordinator of Instrumental Instruction in Perth and Kinross, PSO's current conductor Allan Young is keen to promote musical education and collaborations between the region's various instrumental groups, especially those involving youngsters. Thus the orchestra's concerts over the past few years have featured successful joint ventures with the Band of the 51st Highland Brigade, Perthshire Brass, Perth and Kinross Big Band, members of Perth Youth Orchestra and some very talented young soloists who began their musical education through the region's instrumental Instruction Service.
Happily these collaborations have brought in new blood to Perth Symphony Orchestra. For example, for the first time in its history, PSO has a regular brass section making rehearsals much more enjoyable and meaningful for all. The orchestra's next aim is to increase audience numbers back to the capacity audiences enjoyed in the past when there were fewer demands on people's leisure time. Perth Symphony Orchestra looks forward to the next fifty years with excitement!


Some thoughts on being in PSO...
Over its 60 year history hundreds of orchestral instrument players have played with PSO. Young and old, amateur and professional. Below are some of their thoughts and memories of what it is to be in an amateur orchestra.

Ian McLennan, clarinet, bassoon and percussion
'I first played in the PSO under Ernest Monk in, I imagine, 1954 - it wasn't the first concert, and it took place in the City Hall. I can't remember the whole programme but I think it included Mozart's Piano Concerto no.23. I played clarinet or bassoon but I had only recently started on the bassoon and wasn't very competent. There was only one clarinet player and one bassoon where two of each are required, so I asked Mr Monk which I should play. He said I could please myself! - so I played clarinet in the Mozart as the bassoon part was very difficult, and bassoon for the rest of the concert.
I taught mathematics at Glenalmond and I knew Bela de Csillery very well as he was on the music staff there. Even in his day the wind, brass and percussion sections of the orchestra were staffed largely by professionals who appeared only for two Sunday afternoons prior to each concert. The string section was mainly made up of amateurs who rehearsed weekly and were stiffened by a few professionals for the concerts. In the photograph on page 4 of the 50th Anniversary Concert programme I can be seen playing second bassoon and two pupils from Glenamond are playing clarinet, with another one as a percussionist - he seems to have laid hands on a dinner jacket! Although Bela set high standards and could be very demanding he was also very understanding of the difficulties amateurs could have. Towards the end of his time I was finding the temptation growing to go hill-walking on Sundays but Bela kept cajoling me to play even if it was only in the percussion department!
The standard of playing in Bela's time was rising rapidly and was beginning to get beyond me. The standard nowadays and the works the orchestra performs are truly amazing. It says a great deal for the music teaching locally, the support the public gives, the facilities that are available including the superb new concert hall, and the inspiration and leadership of Alan Young. Long may it continue.'

Geoffrey Bridge, oboe
'I played first oboe occasionally in PSO in the late nineteen fifties when I was a medical student at St Andrews University. I had come across the conductor at that time Dr Bela de Csillery, in Dundee. He was know in the Dundee and Perth area as "the Maestro" because he conducted, as well as the PSO, the Dundee Symphony Orchestra and both the Perth and Dundee Choral Societies. He was a Hungarian emigré married to the famous violinist Joanna Marzty and taught at Glenalmond School. He was a madcap driver of a D type Citroen car which were very rare at the time and he was a tartar!
Rehearsals - from my hazy memory anyway - were mostly fear-ridden because the "maestro" felt that we never played sufficiently in tune and there were always consequences. He used to tape record the rehearsals on a Ferrograph reel-to-reel and make individuals listen to their mistakes! Especially me of course who he sometimes encouraged with outrageous praise only to look daggers at and destroy my confidence within the next few bars! '
' I was very young of course and not well able to cope with such criticism but I do nevertheless thank him for the encouragement he often gave me. He was one of the influences who helped me change the course of my studies. I shortly left medicine to go to the Royal College of Music and begin my musical career. Shortly after this he also left the area to become Head of the Kent County Music School where he pioneered many interesting instrumental educational developments. A difficult man in some ways but a man with a huge talent and revolutionary ideas.'

Peter Marr, violin
'I have just found your web site which brought back some very happy memories when I used to play in the Perth Symphony Orchestra in the second violins where I shared a desk with I think Gloria de Pettes if I remember correctly. I was taught the violin by Bela de Csillery while I was at school in Scotland (where Noel de Jongh also taught music). He exercised strong influence in my life as a teenager learning to appreciate music and learning to play the violin. He was a firm teacher and at times a hard task master but all designed to get the best out of his pupils! One of my most vivid recollections is the concert in 1957 when Ralph Holmes was the soloist and played the Mendelssohn violin concerto.'

Alistair Peters, violin
'I played mainly under John McLeod and remember he tried to raise the strings standard by getting us to sight read through a lot of the string repertoire e.g. Holst, Elgar, Bach. But yes, I attended quite a number before that when my uncle Andrew was playing. I remember Ewan Fairbairn as a percussion player but not as a conductor. I think the last time I played was for the auditions for a new conductor around that time: i.e. we had to play Fingal's Cave a lot of times!! Esther Taylor was still leader then: I remember the trumpets came from Fife (I think) and played the long "Bach" trumpets for Messiah each time. I filled in a few times as 3rd trumpet if we played Wagner or something. I think we did the Elgar variations too? And also the combined concerts in St Johns with the Choral (Bach, Mozart etc). I remember one time Hiawatha's Wedding in the City Hall with John Corbett (?) who sang the tenor solo - a work that had gone out of date long before. My first concert was a Messiah as 2nd violin; I looked across and saw the violas had a much easier time - the 2nds and firsts have a lot of unison, quite often fast!! Since I was not all that good I decided from then on I would take up viola!! A number of players also played for the operatic in the theatre (under Malcolm)and I remember a week with Brigadoon - quite a weepy!!'
Kathy Adler, oboe
'The programme I remember best is the Alexander Nevsky one. The music was so onomatopoeic it evoked the most vivid images of the relevant scenes. If you don't know it I recommend you borrow it from the library. It is a very dramatic tale, and the music is wonderful. I loved every rehearsal. The only problem was I couldn't hear myself play because the brass were right behind me which is very disconcerting. Before the dress rehearsal our conductor (John McLeod) said the soloist would be Sandra Brown… we'd like her… she was rather good… Thus I was totally unprepared for her main solo… a haunting lament over the field of the dead. She sang it so beautifully that tears just burst out and ran down my cheeks, but because I was trying to play at the same time, I couldn't wipe them away… very difficult as I also couldn't get my breath properly either!! Thank goodness for dress rehearsals… I was more prepared for it at the concert itself.'

Julia Banks, flute
'I have been playing with PSO since I moved to Perth in 1976. I could hardly believe my luck at finding myself in a town with a symphony orchestra with flute vacancy. I was immediately made to feel very welcome.
Over the years I have made many friends through a shared love of music, and I feel very fortunate to have worked through such a wide orchestral repertoire: symphonies, overtures, and concertos with soloists who have gone on to successful international careers. It is thrilling to hear some work or soloist on the radio and to think: "We played that" or "…with him or her".
Quite early on I was invited to join the committee and served for several years as an ordinary member and, in the last few years, as Friends' Secretary.
It is hard to pick out particular highlights, as all the concerts have been memorable and exciting, and it is always thrilling to feel oneself a part of a huge body of sound. I have particularly enjoyed playing in all the Brahms symphonies and felt particularly challenged by Scheherazade and Rachmaninov 2nd Symphony. The big event concerts have been great fun: the Choral Symphony with Perth Choral Society; the 50th anniversary concert; Perth 800 playing the music for the Royal Fireworks by the Tay, in the snow; last February's concert with PYO…
Rehearsals are good fun too. Allan has a wonderful sense of humour, endless patience, a way of getting us to listen carefully to other sections of the orchestra and the gift of building up confidence, so that the scary moments of exposed entries, tricky rhythms and seemingly impossible rapid passages become manageable.'

Carolyn Bell, oboe
'Once the kids were settled at school I took up the oboe as an engrossing hobby. I enjoyed practising but wished there could be a purpose to my playing. So when I moved to Perth in 1995 I was delighted to find that there was an orchestra that I could join and even more delighted when I found everyone friendly, kind and encouraging and the choice of music manageable. In time I was invited to join the committee and have served in the roles of secretary and chairperson and am gradually building an archive of the orchestra's history both on the website and in paper form.
I find it life enhancing to be part of a large and diverse group of people all working together to create an entertainment which is 'more than the sum of the individual parts'. Every rehearsal and performance is different and on a good day the music really takes on a life of its own. As well as the orchestral repertoire members meet in smaller groups and explore chamber music too.
My most memorable moment with PSO? ... I have many, many happy memories of my time in the orchestra. Socially the 50th Anniversary Dinner was a special event with all the orchestra's former leaders and most of the conductors present. Musically I really enjoyed playing the second symphony of Sibelius, being part of his fascinating landscape of sound, the Italian Girl in Algiers by Rossini and playing my part in the story of Scheherazade. There are wonderful moments of humour too: rehearsal comments such as Allan's cheerful "rests shouldn't be called rests, they should be called counting opportunities" ...'

Jonathan Pinnick, bassoon
'How long have you been playing with the orchestra?: 3½ years. How did you first become involved with PSO?: I moved to Perth for work in 2010 and was keen to find a local orchestra to play in. Music has always been a big part of my life so when I found PSO's website I got in touch and was invited along to a rehearsal. I've been a member ever since and for the last couple of years have been on the management committee as Publicity Officer.
What's the best thing about being a member of PSO?: Everyone in the orchestra is very friendly and we have a lot of fun together. Allan (Young) creates a light-hearted atmosphere in rehearsals (most of the time!) but at the same time pushes us to achieve our full musical potential. We play a wide range of music to suit all tastes. Trips to the pub after rehearsals are also a highlight of my week!
What's your most memorable moment with PSO?: Performing Rimsky-Korsakov's "Scheherazade" in the last concert (November 2013). There were some fabulous solo bassoon passages which were great fun to play and stretched my abilities to the limit. There was some superb solo playing throughout the wind section and Lorna (leader & solo violin) was the star of the show. I'd previously played "Scheherazade" with my youth orchestra over a decade ago so it also brought back happy memories for me.'

Gillian Roxburgh, violin
'I have been playing the violin since the age of 7 and began orchestral playing a couple of years later. Orchestral playing has always been the leisure activity I enjoyed the most, but unfortunately I lost all my musical contacts when my family relocated to Muthill in 1993. I first became aware of PSO some years later, but childcare and transport problems, and later work commitments, meant I was unable to join until recently.
I finally took the plunge in September 2013, joining the 1st violin section as rehearsals were beginning for what I was assured was the most difficult programme so far! Everyone was very friendly and welcoming, which gave me the confidence to just join in and enjoy it. The atmosphere at rehearsals is always very relaxed- you get the sense that everyone is there because they enjoy playing- even if Allan does have to bully us into smiling!
The high point of my time with PSO so far would have to be the end of the first rehearsal- I really could still play well enough to keep up! Having practised hard to make up lost ground, I now feel as if I have reached a slightly higher standard than before I stopped playing, and am looking forward to playing with the orchestra for many years to come.'



PSO PERFORMANCES OF NEW OR UNUSUAL WORKS

May 1957: Three Highland Sketches for strings by Marie Dare.
Marie Dare was a native of Fife who studied cello at the Guildhall School of Music under Sir Landon Ronald who awarded her the Gold Medal for instrumentalists. She gave many recitals and was one of the early broadcasters. On the staff of the RSAMD she played in Perth Symphony Orchestra as leader of the cellos from 1955 and later as a double bass player. As a composer she made her name chiefly with her chamber music. Her music is sensitively written, lyrical and strongly impregnated with local colour. The Three Highland Sketches are probably her most popular work and had been played by the SNO and broadcast by the BBBSSO.
March 1966: Variations on a Scottish Theme by William Wordsworth
First public performance of this work by the composer William Wordsworth (great-great-grandson of the poet's brother Christopher) who was taught by Sir Donald Tovey. In 1961 he moved to Inverness-shire and these variations were composed in 1962. There are nine variations based on the theme "Wi a hundred pipers". The composer was in Perth for the occasion and applauded by the audience.
November 1966: Highland Elegy by John McLeod
First performance of this work written specially for PSO in the summer of 1966. It is an elegy for those who fell at the massacre of Glencoe in 1692. A critic at the time wrote "an evocative ten minute work which should receive further performances."
February 1969: Three Moons for Soprano and Chamber Orchestra By John McLeod
First performance of this work composed in autumn 1968. It is a setting of three poems by James Turner whom the composer met in 1966 whist taking part in the St Endellion Festival in Cornwall. The soloist was Catherine Christie
November 1972: Four Entr'acts from the opera "Katerina Ismailova" by Shostakovich. First concert performance in Great Britain
November 1972: Waldmarchen from "Das Klagende Leid" by Mahler
First Scottish performance
February 1973: First Performance of Harpsichord Concerto by John McLeod
This work was completed in January 1973 and written for the composer's wife, Margaret Murray. It is a short concentrated work in 17 parts and makes use of alaetoric technique. The press at the time reported that it was "an attractive and episodic piece full of quaint and delightful sounds."
February 1983: Symphony No.6 by George Lloyd
First performance in Scotland conducted by Euan Fairbairn who wrote in the programme at the time "It is a relatively short, tuneful and enjoyable work in C major, and I hope it will demonstrate that modern music does not have to be baffling, excruciating and tuneless." A critic at the time wrote "It proved to be a work of instant appeal, well scored and in this carefully prepared performance, well realised." (Sadly the audience was very sparse)
February 1989: Trombone Concerto No 4 by Ferdinand David (1810-1873)
This unusual work is one of only two of this composer's work currently in print.
February 1992: Fanfare by Nigel Don
This was commissioned by Perth Symphony Orchestra as a short celebratory piece to open a Gala European Concert given in Euro music week 1992. It is scored for all the instruments available: full orchestra, brass band and organ. The composer Nigel Don was born in London of Scots descent. At Cambridge whilst gaining a degree in chemical engineering he learned trombone and founded the University's big band. Since 1989 he has devoted himself to composing instrumental music.
February 1994: Trumpet Concerto Op 12 by Nigel Don
Written for PSO by Nigel Don who was delighted to find that it was to be played by John Wallace! The Dundee Courier reviewer wrote " this trumpet concerto deserves to be heard again."
November 1996: Seven Burns Songs, music by Nigel Don
These songs represent Don's first response to Burn's poetry. One of them the highland widow's lament was written specially for this concert.
November 2003: Stone of Destiny by John McLeod
Stone of Destiny was commissioned by PSO to celebrate their 50th Anniversary. John McLeod writes of his new work:
Stone of Destiny
A Symphonic Suite for Orchestra
1. Jacob's Pillow - the legend begins
2. Odyssey - a journey through time
3. Moot Hill - ghosts of ancient kings
4. Crown Triumphant - a Coronation March
"No Stone ever had so wonderful a history" - William Burges in Gleanings from Westminster Abbey (1863)
The so-called Stone of Destiny (also known as the Stone of Scone and the Coronation Stone) has now found its home in Edinburgh Castle. Few famous artefacts have aroused such interest and controversy over such a long and colourful history - much of it shrouded in myth and legend. My inspiration for this symphonic suite came when I began to read some of the stories attached to this incredible object.
The most famous account of its origins comes from the Old Testament, and so the first movement, Jacob's Pillow - the legend begins, is, in musical terms a depiction of Jacob of Bethel where he laid his head on a stone and dreamt of angels ascending to heaven.
In the second section, Odyssey, a journey through time, I have tried to conjure up a journey through the ages and across many countries - Egypt, Spain, Africa and finally to Iona and thence to mainland Scotland where the stone came to rest at the ancient Royal centre of Scone. Here at Moot Hill it became the sacred stone on which the Scottish Kings were crowned until 1296 when it was seized by Edward 1 of England and taken to Westminster Abbey.
Moot Hill - ghosts of ancient kings - is the third movement which makes way for a rousing finale, Crown Triumphant - a Coronation march echoing much of the ceremony and music which has surrounded this stone throughout history.
November 2005: John McLeod Clarinet Concerto:Clarinettist Linda Merrick gave a totally captivating world premiere of John McLeod's Clarinet Concerto on Sunday 27th November 2005 in the new Perth Concert Hall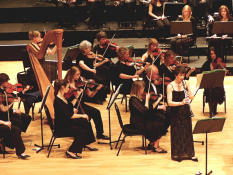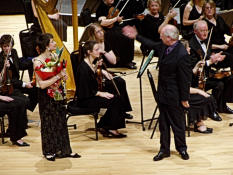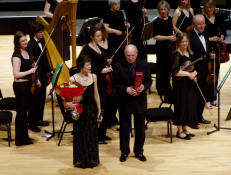 March 2014: Perthshire Suite: commissioned, using the Duncan bequest, for PSO's 60th Anniversary concert from composition students at the Royal Conservatoire of Scotland.
The Mary Grey - Rebekah Smith
Distance - Oliver Newman
The Wishing Chair - Jessica Jones
Laoch - Blair Russell
Huntingtower - Kristaps Cukurs




PSO CONDUCTORS AND SOLOISTS 1953-Present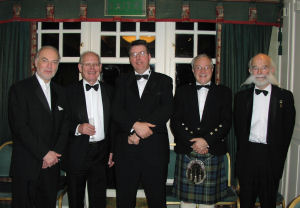 Conductors John McLeod, Noel de Jongh, Allan Young, Iain Campbell, Euan Fairbairn
at PSO's 50th anniversary dinner in November 2003
26/04/53 A Ernest Monk (conductor) Alastair Moncreiff (piano)
09/05/54 A Ernest Monk (conductor) Christopher Headington (piano)
06/02/55 Bela de Csillery (conductor) Shelagh Stamp (piano)
08/05/55 Bela de Csillery (conductor) Ralph Holmes (violin) David Steuart (narrator)
12/02/56 Bela de Csillery (conductor) Thorunn Tryggvason (piano)
13/05/56 Bela de Csillery (conductor) Desmond Bradley (violin)
10/02/57 Bela de Csillery (conductor) Jean Antonietti (piano) L J Barnett (flute)
12/05/57 Bela de Csillery (conductor) Ralph Holmes (violin)
09/02/58 Bela de Csillery (conductor) Yoko Kono (piano) - concert cancelled due to blizzard! Yoko Kono gave a piano recital.
18/05/58 Bela de Csillery (conductor) Leonora Mila (piano)
03/07/58 Bela de Csillery (conductor) Peter Smallwood (narrator)
16/11/58 Bela de Csillery (conductor) Yoko Kono (piano)
22/03/59 Bela de Csillery (conductor) Herrick Bunney (organ) Audrey Gunn (soprano) Irene Stewart (contralto)
15/11/59 Bela de Csillery (conductor) Ralph Holmes (violin)
20/03/60 Bela de Csillery (conductor) Joaquin Achucarro (piano)
20/11/60 Bela de Csillery (conductor) Allan Schiller (piano)
26/03/61 Bela de Csillery (conductor) Balint Vazsonyi (piano)
12/11/61 Bela de Csillery (conductor) Stephanie Bamford (piano)
13/05/62 Bela de Csillery (conductor) Alan Loveday (violin)
11/11/62 Iain Campbell (conductor) Sheila Lessells (piano)
10/03/63 Iain Campbell (conductor) Iain Cuthbertson (narrator)
10/11/63 Iain Campbell (conductor) Frederick Grinke (violin)
22/03/64 Iain Campbell (conductor) Joaquin Achucarro (piano)
15/11/64 Iain Campbell (conductor) Frances Mason (violin)
21/03/65 Iain Campbell (conductor) Raymond O'Connell (piano)
07/11/65 John McLeod (conductor) Joan Dickson (cello) Duncan Sinclair (organ)
20/03/66 John McLeod (conductor) Geoffrey Burford (piano)
06/11/66 John McLeod (conductor) Allan Schiller (piano)
05/03/67 John McLeod (conductor) Katrina George (piano)
29/10/67 John McLeod (conductor) David Nicholson (flute) Louis Carus (violin) Margaret Murray (piano)
25/02/68 John McLeod (conductor) Enloc Wu (piano) Sanchia Pielou (harp)
27/10/68 John McLeod (conductor) James Morris (Tenor) Robert Bell (piano) Daphne Godson (violin)
23/02/69 John McLeod (conductor) Audrey Innes (piano) Noel de Jongh (organ) Catherine Christie (soprano)
09/11/69 John McLeod (conductor) Margaret Murray (piano) Kenneth Murray (piano) Ronald Mackie (clarinet)
08/03/70 John McLeod (conductor) Joan Dickson (cello) Valerie Taylor (oboe)
08/11/70 John McLeod (conductor) Colin Kingsley (piano) Floretta Volovini (sop) Claire Liavingstone (contralto) John Robertson (tenor)
21/02/71 John McLeod (conductor) George Donald (piano) Edna Arthur (violin)
07/11/71 John McLeod (conductor) Sam Bor (violin) Josephine McQueen (soprano)
20/02/72 John McLeod (conductor) Margaret Murray (piano)
05/11/72 John McLeod (conductor) Julian Dawson (piano) Moira Drozdz (soprano) Joan Busby (contralto) Rory Hammond (tenor)
18/02/73 John McLeod (conductor) Leonard Friedman (violin) Margaret Murray (piano)
11/11/73 Noel de Jongh (conductor) Andrew Haigh (piano)
17/02/74 Noel de Jongh (conductor) Ralph Holmes (violin)
10/11/74 Noel de Jongh (conductor) Enloc Wu (piano)
16/02/75 Noel de Jongh (conductor) Leon Goossens (oboe)
09/11/75 Noel de Jongh (conductor) Yonty Solomon (piano)
15/02/76 Noel de Jongh (conductor) Thomas Igloi (cello)
14/11/76 Noel de Jongh (conductor) Andrew Haigh (piano)
20/02/77 Noel de Jongh (conductor) Iona Brown (violin)
06/11/77 Noel de Jongh (conductor) Gillian Sansom (violin)
19/02/78 Noel de Jongh (conductor) Terence Judd (piano)
12/11/78 Noel de Jongh (conductor) Danielle Laval (piano)
18/02/79 Noel de Jongh (conductor) George Gwilt (flute) Philip Green (saxophone) Caroline Neil (cello)
11/11/79 Euan Fairbairn (conductor) Christian Blackshaw (piano)
24/02/80 Noel de Jongh (conductor) Jane Goodwin (cello)
09/11/80 Euan Fairbairn (conductor) Frank Lloyd (horn)
01/03/81 Euan Fairbairn (conductor) Linda Ormiston (soprano) Donald Maxwell (baritone) Alan Borthwick
08/11/81 Euan Fairbairn (conductor) Bryn Turley (piano)
28/02/82 Euan Fairbairn (conductor) Philip Thorne (guitar)
14/11/82 Euan Fairbairn (conductor) Anne Evans (flute) Winifred Freeman (harp)
27/02/83 Euan Fairbairn (conductor) Miles Baster (violin)
13/11/83 Euan Fairbairn (conductor) Neville Garden (narrator) Graeme Williamson
26/02/84 Euan Fairbairn (conductor) Audrey Innes (piano)
24/02/85 Euan Fairbairn (conductor) Jane Goodwin (cello)
10/11/85 Euan Fairbairn (conductor) Scott Mitchell (piano) Graeme Hodge (horn)
23/02/86 Euan Fairbairn (conductor) George Donald (piano)
25/02/86 Christopher Tambling (conductor) Mark Bousie (piano)
01/03/87 Euan Fairbairn (conductor) Claire Docherty (violin)
15/11/87 Chris Griffiths (conductor) Willie Conway (cello)
28/02/88 Chris Griffiths (conductor) Kathleen Renilson (piano) Ian Muirhead (trumpet)
13/11/88 Chris Griffiths (conductor) Laura Young (oboe) Heather Nichol (clarinet) Chris Robson (bassoon) Chris Griffiths (horn)
26/02/89 Chris Griffiths (conductor) Alan Pash (trombone)
12/11/89 Chris Griffiths (conductor)
11/11/90 Chris Griffiths (conductor)
24/02/91 Christopher Tambling (conductor) Frances McCafferty, Laura Young (oboe)
10/11/91 Christopher Tambling (conductor)
23/02/92 Christopher Tambling (conductor) Audrey Tennant (sop) Heather Stewart (con) Robert Crowe (ten) Donald Maxwell (bass)
15/11/92 Christopher Tambling (conductor) Elizabeth Lee (flute)
28/02/93 Christopher Tambling (conductor) Elizabeth-Anne Neil (violin) Alan Childs (organ)
14/11/93 Christopher Tambling (conductor)
27/02/94 Christopher Tambling John Wallace (trumpet) Douglas Waterston (trumpet)
13/11/94 Christopher Tambling Alan Vicary (narrator)
26/02/95 Christopher Tambling (conductor)
12/11/95 Christopher Tambling (conductor) Maggie Lascelles (soprano) Janet de Vigne (soprano) Irene Robertson (soprano) William Strachan (tenor)
10/11/96 Christopher Tambling (conductor) Alan Vicary (bass) Karen Fraser, Jill Harrison (soprano)
23/02/97 Christopher Tambling (conductor) Ralph Kerr (organ) Allan Kelman (Tuba)
09/11/97 Henry Neil (conductor)
22/02/98 Allan Young (conductor) Nicholas Smith (flute)
08/11/98 Allan Young (conductor) Nicholas Dover (saxophone)
28/02/99 Allan Young (conductor) Chris Griffiths (horn)
07/11/99 Allan Young (conductor)
27/02/00 Allan Young (conductor)
19/11/00 Allan Young (conductor) Gordon Murch (piano)
24/02/01 Allan Young (conductor) Lorna McGovern (violin)
11/11/01 Allan Young (conductor) Gordon Murch (piano) Rowan Hellier (soprano)
23/02/02 Allan Young (conductor) Alasdair Beatson (piano)
10/11/02 Allan Young (conductor)
22/02/03 Allan Young (conductor) Linda Ormiston (soprano) Donald Maxwell (baritone)
09/11/03 Allan Young (conductor) John Wallace (trumpet)
28/02/04 Allan Young (conductor) Edinburgh Guitar Quartet
14/11/04 Allan Young (conductor) Kennedy Leitch (cello)
06/3/05 Allan Young (conductor) Philip Alexander (clarinet)
27/11/05 Allan Young (conductor) Linda Merrick (clarinet) and Alasdair Beatson (piano)
25/02/06 Allan Young (conductor) David O'Connell (cello)
18/11/06 Allan Young (conductor) Kimberley Boyle (flute)
25/02/07 Allan Young (conductor) Lorna McGovern (violin) Neil Metcalf (compere)
17/11/07 Allan Young (conductor) Andrew Mann (clarinet)
23/02/08 Allan Young (conductor) Scott Mitchell (piano)
23/11/08 Allan Young (conductor) Michael O'Donnell (oboe)
28/02/09 Allan Young (conductor) Roger Quick (narrator)
21/11/09 Allan Young (conductor)
27/02/10 Allan Young (conductor)
20/11/10 Allan Young (conductor) Natalie Montakhab (soprano)
19/02/11 Allan Young (conductor) Lawrence O'Donnell (bassoon)
19/11/11 Allan Young (conductor) Terry Wale (narrator) Gordon Murch (piano) Martin Neilson (piano)
26/02/12 Allan Young (conductor) Katherine Bryan (flute)
10/11/12 Allan Young (conductor) Ben Norris (violin)
17/02/13 Allan Young (conductor) joined by Perth Youth Orchestra in the second half
16/11/13 Allan Young (conductor)